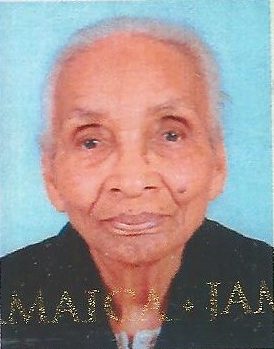 Clara Elizabeth Hamilton (Sis Hammy), late of Toronto, Canada and Irwin, St. James, died on July 21, 2018 at 98 years old.
He died leaving son: Byron, daughter-in-law: Delores, grandchildren: Dwayne, Yohan ,William, Tarah and Bryanna, 4 great grandchildren, adopted children: Grace and Carlene, nieces, nephews, other relatives and friends.
The thanksgiving service will be held on Sunday, August 19, 2018 at Orange S D A Church, St. James at 11:00 am.
Interment follows in Dovecot of St. James Memorial Park.
Offer Condolence for the family of Clara Elizabeth Hamilton (Sis Hammy)