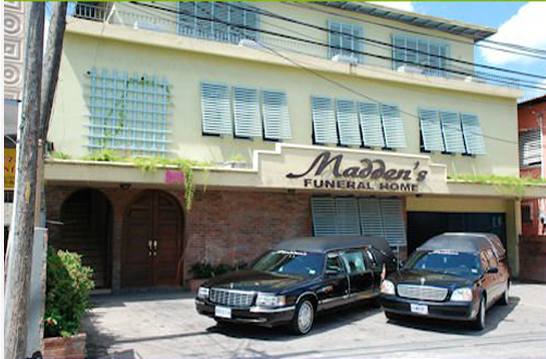 Madden's Funeral Home is here to help families and friends honor their loved ones. Dont worry, we'll handle everything in your time of grief!
37 Union Street, Montego Bay, St. James, Jamaica, W.I.
(876) 952-0212 or 979-1491
(876) 940-5350
About Madden's Funeral Home
Madden's Funeral Home exists to help you deal with the death of a loved one. We believe that every life, whether lived quietly or bigger than life itself, is unique and deserves to be honored. Our staff of funeral directors are experienced professionals who are devoted to helping you honor the memory of your loved ones. Your family deserves a funeral home whose staff is caring and compassionate. Contact us if we can be of assistance to your family with any services we offer, such as pre-need planning,traditional funeral services, cremations services, grave side services, or any other requirement you may have. Our commitment for over seventy years has been to assist those who have been touched by such a loss with dignified, personal service at a reasonable, affordable cost.
We are proud of our reputation built over years of trust and service. Whether you are pre-planning or are in need, we remain committed to providing you with personal assistance and sound advice. This information is not meant to be all inclusive, rather to provide some options. We are available at anytime to answer any questions you may have and can be contacted by phone or email at any time. Our emphasis is to create a meaningful, respectful funeral service that is custom fit to each family's individual needs, desires and budget. A funeral is a service of worth, a rite of passing, a ceremony for those one leaves behind, to afford them a chance to say good-bye while remembering and celebrating the importance of a life that has been lived.
Madden's is able to cover total funeral needs – i.e. Cremation and Cemetery facilities both in Montego Bay and Kingston. We recognize that you have many choices today, and we at Madden's Funeral Home work hard to better ourselves so that we may better serve you. Please contact us here at the funeral home to learn more about us. We are available at any time to answer questions you may have and can be contacted by phone (954) 324-9550 (US) / (876) 922-1955-56 or by email to mobay@maddensfuneralhome.com at any time.
Learn about the Madden's family and the history of our funeral home.
Our History